Wed., October 11. Tyler Tichelaar will be releasing his new book Haunted Marquette. He will tell ghost stories from the book and a book signing will follow. 6:00 p.m. Marquette Regional History Center, Marquette, MI.
Wed. October 11, 2017 – Presentation 6:00 p.m. –  Book signing 7:00 p.m.
Haunted Marquette: Ghost Stories from the Queen City
Founded as a harbor town to ship iron ore from the nearby mines, Marquette became known as the Queen City of the North for its thriving industries, beautiful buildings, and being the largest city in Upper Michigan. But is Marquette also the Queen of Lake Superior's Haunted Cities?
Seventh-generation Marquette resident Tyler Tichelaar has spent years collecting tales of the many ghosts who haunt the cemeteries, churches, businesses, hotels, and homes of Marquette. Now, separating fact from fiction, he delves into the historical record to determine which stories may be true and which are just the fancies of frightened minds.
Hear the chilling tales of:
The wicked nun who killed an orphan boy
The librarian mourning her sailor lover
The drowned sailors who climb out of Lake Superior at night
The glowing lantern of the decapitated train conductor
The mailman who gave his life for the U.S. mail
More ghostly ladies in floor-length white gowns than any haunted city should have
Haunted Marquette opens up a fourth dimension view of the Queen City's past and reveals that much of it is still present.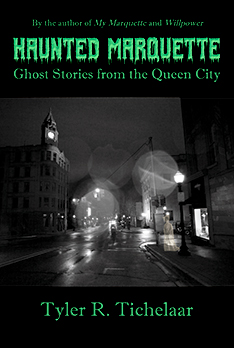 Paperback 6×9 size, 226 pages, ISBN: 978-0-9962400-3-1
"Haunted Marquette deftly weaves history, urban legends, and unexplained phenomena into a kaleidoscope of ghostly hauntings that reveal a side of the Queen City most of us have never experienced but perhaps always feared was there."
— Sonny Longtine, author of Murder in Michigan's Upper Peninsula
Have you experienced a haunting in Marquette or elsewhere in Upper Michigan? If so, Tyler would love to hear your story. Email him at tyler@marquettefiction.com along with your phone number and a brief statement about your paranormal experience. Then he'll set up a time to interview you for possible inclusion in a future book.