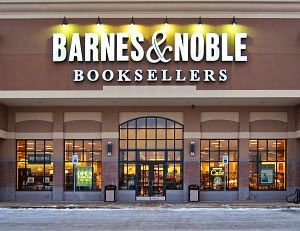 Barnes & Noble plans to open 10-15 new stores in 2019, about three-quarters of which will replace larger stores whose leases have ended, while one-quarter will be in new locations, the company said yesterday in a conference call with analysts (
transcript
courtesy of Seeking Alpha) following the release of
second-quarter results
.
The company also expects improving sales trends to continue during the holiday season to the point where sales at stores open at least a year will have positive gains. CFO Allen Lindstrom attributed the anticipated gains to "benefits from favorable year-over-year comparisons for the balance of the quarter, our national ad campaign [which is currently airing in cinemas and on cable TV that highlights B&N as a place for discovery and celebrates its 23,000 booksellers], a strong publishing season, incremental investments we've made to capture toys and games sales and improved gift assortment and better in-stock inventory positions."
As for stores, in recent months the company opened three new prototype stores–in Columbia, Md., Vernon Hills, Ill., and Hackensack, N.J.–and this week opened another at the Staten Island Mall in New York City. Carl Hauch, v-p, stores, noted that although recent new stores have been between 17,000 and 20,000-square-feet in size, the company is aiming in the future for 14,000-square-foot stores.
The prototypes, he continued, "feature a smaller footprint and a clean contemporary new design where books take the center stage. Each store has a slightly different approach to the new format, providing us opportunities to evolve based on what we learn. These stores were developed with a modern design aesthetic that provides a warm and welcoming atmosphere. They include a large book theater located at the heart of the store and lower-profile bookshelves that provide an improved browsing and discovery experience. They also include plenty of comfortable community seating areas where customers can spend time relaxing, meeting with each other and gathering to talk about books." The stores also have self-service kiosks, and B&N staff have tablets to help customers anywhere in the stores.
Among other information revealed during the call:
While overall sales at stores open at least a year fell 1.4% in the second quarter–the company's best such results in more than two years–book sales fell 3%. In books, there was "continued strength in hardcovers and the reestablishment of our bargain assortment," Lindstrom said. "We also saw improvements in our trade paper, kids, and young adult categories." At the same time, non-book sales rose 1.9%, led by gains in toys, games, café and gifts.
Asked about its toy business in light of the collapse of Toys R Us, Lindstrom said toy sales had a comp-store sales gain in "the double-digit range" and called toys "a significant opportunity for the holiday."
Chairman Len Riggio added: "The toy business is important for us, because the children's business is so important. It's not uncommon to have the kids bringing their parents to the stores. So it's considered a strategic category for us at this point."
Despite lower sales overall in the second quarter, B&N was able to cut its loss in part because of "lower store markdowns and decreased online promotions." Expenses were reduced primarily through "lower store payroll and to a lesser extent Nook rationalization and indirect procurement," according to Lindstrom.
At the same time, the company is "reinvesting in our business to drive top line growth." For this, Lindstrom pointed to "the recent launch of our new ad campaign, remerchandising unproductive space to growing categories and recalibrating our labor model. In addition, we continue to make improvements to our website and recently announced a new Nook tablet."
Capital expenditures were $38 million in the quarter, up from $29 million in the same period a year earlier, mainly because of investments in new stores and holiday merchandising initiatives. During the quarter, B&N distributed $11 million in dividends to shareholders.